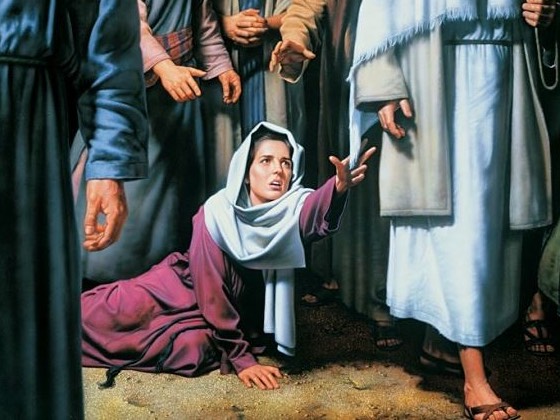 Mar 5:25-34
Now a certain woman had a flow of blood for twelve years, and had suffered many things from many physicians. She had spent all that she had and was no better, but rather grew worse. When she heard about Jesus, she came behind Him in the crowd and touched His garment. For she said, "If only I may touch His clothes, I shall be made well." Immediately the fountain of her blood was dried up, and she felt in her body that she was healed of the affliction. And Jesus, immediately knowing in Himself that power had gone out of Him, turned around in the crowd and said, "Who touched My clothes?" But His disciples said to Him, "You see the multitude thronging You, and You say, 'Who touched Me?' "And He looked around to see her who had done this thing. But the woman, fearing and trembling, knowing what had happened to her, came and fell down before Him and told Him the whole truth. And He said to her, "Daughter, your faith has made you well. Go in peace, and be healed of your affliction."
The same narrative is found in Mat 9:20-22 and Luk 8:43-48.
The NT Greek word in these 3 scriptures for the hem of His garment is "kraspedon", meaning a tassel that the Jews attached to their mantles to remind them of the law.
The same word is also used here:
Mar 6:56
Wherever He entered, into villages, cities, or the country, they laid the sick in the marketplaces, and begged Him that they might just touch the hem of His garment. And as many as touched Him were made well.
We need to go back and study the Old Testament to understand the meaning of this.
Num 15:38-41
"Speak to the children of Israel: Tell them to make tassels on the corners of their garments throughout their generations, and to put a blue thread in the tassels of the corners. And you shall have the tassel, that you may look upon it and remember all the commandments of the LORD and do them, and that you may not follow the harlotry to which your own heart and your own eyes are inclined, and that you may remember and do all My commandments, and be holy for your God. I am the LORD your God, who brought you out of the land of Egypt, to be your God: I am the LORD your God." Also Deut 22:12
The same word is found here:
Zec 8:23
"Thus says the LORD of hosts: 'In those days ten men from every language of the nations shall grasp the sleeve of a Jewish man, saying, "Let us go with you, for we have heard that God is with you." ' "
1Sa 24:4-5
And David arose and secretly cut off a corner of Saul's robe. Now it happened afterward that David's heart troubled him because he had cut Saul's robe.
Mal 4:2
But to you who fear My name
The Sun of Righteousness shall arise
With healing in His wings;
It is the same OT Hebrew word "kanap" used for wings, tassels, sleeve or corner in all these scriptures meaning the blue treaded tassle on the corner of the garment.
The woman with the flow of blood believed and had faith this scripture. She believed Jesus was the Sun of Righteousness and that He had healing in His tassles. There were others as well who know this OT scripture: Mar 6:56. Therefore it meant much more than just touching His garment but it was touching the tassle with the blue thread.
Heb 4:12
For the word of God is living and powerful, and sharper than any two-edged sword, piercing even to the division of soul and spirit, and of joints and marrow, and is a discerner of the thoughts and intents of the heart.
Jesus turned around and asked "Who touched my clothes?". Mar 5:25-34 Some preachers say that the Son of God had no idea who touched Him and that he was cluelessly looking around not knowing what happened. Really?
The woman had a flow of blood and was unclean and was not allowed to be touched. Lev 15:25 Lev 15:19 Therefore she was probably crawling on her hands and knees and reached out between the long robes of the Jewish people to touch the blue tread tassels of Jesus. When He turned around He knew she was hiding in the crowd and asked "Who touched me?".
Remember God calling out the Adam "Where are you?" in the garden of Eden. Gen 3:8-9 Do you think God did not know where Adam was? Jesus also asked His disciples "Who do men say that I am?" Mar 8:27 The scriptures says numerous times that Jesus knew their thoughts. Mat 12:25
Today we can take these scriptures and put our faith in His Word:
Isa 53:5
But He was wounded for our transgressions,
He was bruised for our iniquities;
The chastisement for our peace was upon Him,
And by His stripes we are healed.

1Pe 2:24
Who Himself bore our sins in His own body on the tree, that we, having died to sins, might live for righteousness—by whose stripes you were healed.
By the stripes, the wounds of Jesus, we are healed! Amen.
The Word of God is specific, precise, powerful, and absolute truth. Sometimes we just have to dig a little to find it.